Bathroom Remodeling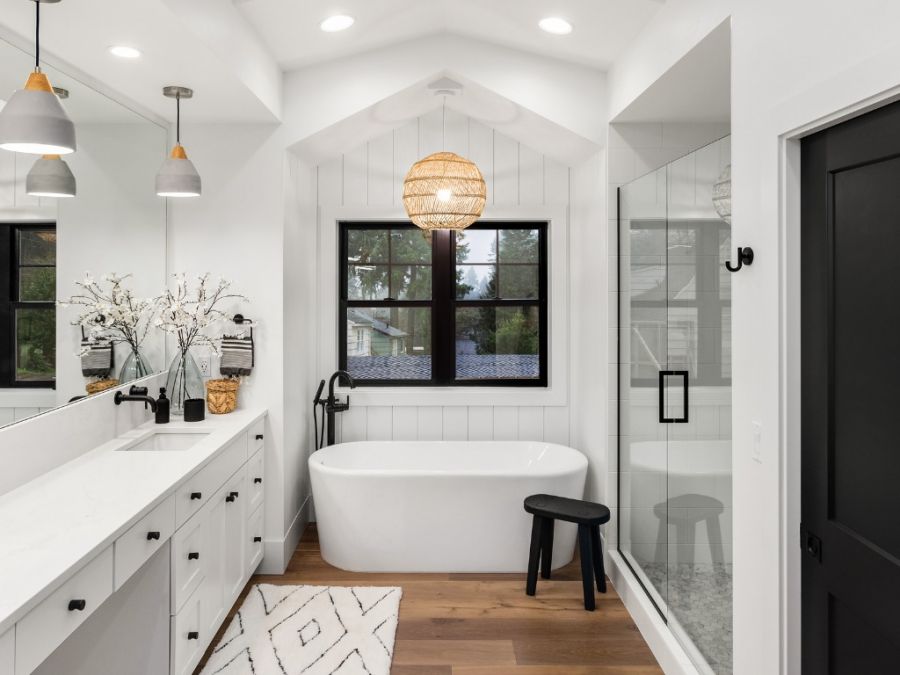 The contractors at IGG Kitchen & Bathroom Remodeling LLC have been remodeling area bathrooms for over 10 years. Whether you are looking to give your bathroom a facelift with more modern fixtures or require a full reconfiguration of your space, the remodeling pros at IGG Kitchen & Bathroom Remodeling LLC can help. We provide bathroom updates that can meet your expectations while honoring your budget.
★★★★★
"We hired IGG for a master bathroom remodel. Their bid was competitive and the work was done on schedule. The day-to-day craftsman, Jeff, did an outstanding job on all tasks, including plumbing, electrical, drywall, and tile. Very professional and personable. The owner, Gene, was great to work with as well. He too was very professional and experienced in remodeling. We give them the highest recommendation."
- Skoitius
---
Call for a FREE Quote
---
Seasoned Bathroom Remodeling Professionals
The bathroom remodeling team at IGG Kitchen & Bathroom Remodeling LLC has seen it all and will come prepared with modern styles and color choices to update your existing bathrooms. From selecting your layout to choosing your style to the installation of new fixtures, IGG Kitchen & Bathroom Remodeling LLC's remodeling professionals will be accessible and helpful throughout the process. We'll deliver bathroom remodeling solutions to fit your needs and turn your outdated bathroom into a private oasis.
Frequently Asked Questions (FAQ)
How long will my bathroom remodel take from start to finish?
Just how long the bathroom remodeling process takes depends on a number of factors. The first of these would be project magnitude. The more work there is to be done, the longer it will take to complete. At IGG Kitchen & Bathroom Remodeling LLC, we have been in the business of helping homeowners remodel for over 10 years, so we know how to jump into a complex task and get to work for you.
How will remodeling my bathroom increase the value of my home?
The return on investment (ROI) of any home improvement is the percentage of project expenses that you regained because the project increased your home value. So, in this case, the ROI represents what your next bathroom remodel could pay you back. They make this recovery by updating the bathroom and through a rise in home value, of course, not hard cash.
How can I prepare my home for a bathroom remodel?
The first of these would be to clear the bathroom of all things and any loose items. Even if remodeling work won't directly affect the areas in which those items belong, taking them out of the room will protect them from dust and potential damage. In addition, it will declutter the remodeling work environment. It's a good idea to prepare the space around your bathroom in a similar way. Decluttering the hallway up to your bathroom, for example, will make it easier to reach the room with materials and equipment.
Do I need to have design ideas in mind before I talk to IGG Remodeling?
It can be helpful to have an idea of design styles that you like, but you don't need to prepare them before beginning our Personalized Design experience. After all, part of IGG Kitchen & Bathroom Remodeling's unique experience is that our team designs your bathroom with you—not for you because it's yours—not ours. We're here to work with you, imagining and refining design ideas. Whether you come with prepared material or not, we can help you turn your dream bathroom into a reality.
Are curbless showers worth it?
Yes! Curbless showers are ideal for individuals with limited mobility and those who simply want to walk in or out of their morning showers. They are easy to clean and maintain and are increasingly popular with homebuyers.
What's the average cost of a bathroom remodel?
The cost of our bathroom remodeling services varies depending on the project. The square footage of the bathroom and the complexity of the project both influence the price. The final bill reflects the cost of materials combined with the cost of labor. Typically, a standard 5'x8' full bathroom remodeled estimated costs between $8,000 to $15,000.
Bathroom Remodeling That is Built to Last
IGG Kitchen & Bathroom Remodeling LLC bathroom remodelers take great pride in providing quality craftsmanship. We offer the finest quality materials to match your personal preferences and your budget. From quality flooring to gleaming fixtures, IGG Kitchen & Bathroom Remodeling LLC will help you choose quality remodeling materials that will beautify your bathroom for years to come. All of our work is guaranteed. Your bathroom remodeling project will not be complete until you are fully satisfied.
Affordable Bathroom Remodeling
Bathroom remodeling in modern or neutral colors and styles will help to increase your home's market value if you are planning to sell, as well as your own aesthetic value if you are planning to stay and enjoy it. IGG Kitchen & Bathroom Remodeling LLC will work with you to design and remodel the bathroom of your dreams while working within your budget. Whether you want to increase the monetary value or aesthetic value (or both) of your home, IGG Kitchen & Bathroom Remodeling LLC delivers!
---
Call for Fast FREE Quote
---