Remodeling Contractor in Englewood, Colorado
Are you searching for an Englewood, Colorado remodeling contractor who will be reasonably priced and accessible to you during the project? IGG Kitchen & Bathroom Remodeling LLC has been updating and remodeling Englewood kitchens and bathrooms since 2014, and has built a stellar reputation one satisfied customer at a time.
$500 OFF
Kitchen Remodeling or
Bathroom Remodeling
Includes FREE soft-close drawers & doors!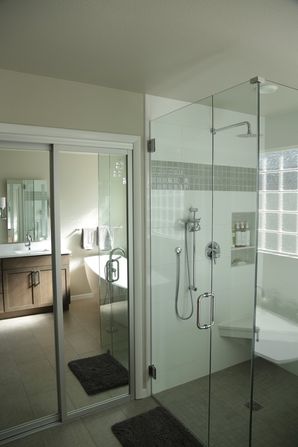 Comprehensive Englewood Home Improvement Services
From installing kitchen cabinets to adding a walk in bathtub in your Englewood bathroom, IGG Kitchen & Bathroom Remodeling LLC has the expertise to tackle any remodeling project you desire. What's more, we pride ourselves in being accessible and helpful every step of the way; from the initial design, to choosing colors and styles, to the final coat of paint. IGG Kitchen & Bathroom Remodeling LLC's Englewood remodeling crews are skilled in providing quality craftsmanship no matter the size or scope of the project.
Our Englewood Remodeling Services
As a leading Englewood remodeling contractor, we have developed a keen understanding of local building codes. Each new remodeling project is approached with integrity and a passion for getting it right. Rest assured that the remodeling crew for your Englewood home has been carefully screened and expertly trained to provide consistently high-quality workmanship. Englewood home remodeling project offerings include
Kitchen Remodeling
Bathroom Remodeling
Home Additions
Custom Cabinetry
Home Siding
Back Yard Enhancements
Reconfiguring Space
Basement Finishing
Deck Building
And More – Just ask!
Competitively Priced Englewood Home Remodeling
Once you have trusted IGG Kitchen & Bathroom Remodeling LLC to draw up remodeling plans, you will receive a detailed breakdown of the estimated cost. If you already have remodeling plans, we would be happy to follow those as well. IGG Kitchen & Bathroom Remodeling LLC takes pride in completing projects within your established budget. Your contractor will ensure that you understand and approve of where each and every dollar is going during the remodeling project. We'll help you to locate cost savings in materials and labor each step of the way, so that you'll receive the best possible value for your Englewood remodeling budget. Honesty and fairness are the standard at IGG Kitchen & Bathroom Remodeling LLC.
---
Call for FREE Remodeling Contractor Quote
---
WHAT CUSTOMERS ARE SAYING:
5★★★★★ - "Gene brings the perfect mix of professionalism and knowledge to the job. His obvious wealth of experience is blended with a personal touch. He provides informed practical solutions to all manner of project scope. We had overlapping concerns for schedule, methods and materials which were addressed in depth. Gene took the time to detail all of our options. He kept our budget in mind while considering our long-term resale goal. We felt comfortable and assured discussing costs, logistics and products. His approach is honest and straightforward. Gene is just a great guy. I fully recommend working with him and the excellent folks at Its Gotta Go, LLC."

Eric C., Remodeling Contractor in Elizabeth, CO

5★★★★★ - "We hired IGG Kitchen & Bathroom Remodeling for a full remodeling of our master bathroom after seeking several bids. The price was reasonable and the quality of work was excellent. Gene is very experienced in remodeling and is a great guy - honest and trustworthy. The work was done by Jeff, and we were very impressed with his skills, his attitude and his work ethic. Jeff is a true perfectionist and it was a pleasure to work with him. We would not hesitate to recommend IGG Kitchen & Bathroom Remodeling for residential remodeling."

Peter K. in Greenwood Village, CO

5★★★★★ - "Nothing but very high praise for the remodeling. Would not hesitate at all to use the company again. Top quality product and workmanship the greatest. On a 5-star rating...its no doubt we give the company a "5". Don't settle for anything less but "Its Gotta Go". Very happy customers."

Ken M., Remodeling Contractor in Arvada, CO

5★★★★★ - "Excellent work
Meticulous attention to detail"

Anonymous

2021-07-21

5★★★★★ - "Was told to contact Gene from a family friend. Gene was wonderful from concept to completion. Gene is personable and helped to nail down my ideas. Rafael, I appreciate the clean-up work day to day and being mindful of my dogs. I am ecstatic with my new Kitchen! Looking forward to having the master bath next time in the near future, IGG Kitchen & Bathroom Remodeling!"

Jenna S., Bathroom Remodeling in Elizabeth, CO

2021-05-04

5★★★★★ - "The project was to demo the 1971 kitchen and replace it. The only thing that was to remain were the appliances. Gene came out, looked over the kitchen, took measurements, and listened to what I wanted. He made suggestions that were helpful to me. He would check up on me and the work in progress that Sean and Clay were doing. They were very professional in their work and cleaned up every day. Gene put us in contact with a person for cabinets and tile and we were moving forward. I love my new kitchen and would recommend IGG Kitchen & Bathroom Remodeling. As a matter of fact, I have already recommended them to one person. Thanks, Gene for being our guide."

Carol St John

2021-04-05

5★★★★★ - "The best contractor we could hope for. This is the second project that we have used IGG Kitchen & Bathroom Remodeling and once again we couldn't be more pleased with the end result. Gene takes the time to listen, offers great ideas, and always keeps in mind our budget. THANK YOU, Gene."

Roberto Isaac in Aurora, CO

2020-11-03

5★★★★★ - "Working with Gene and Bob was just what we were looking for...honest and straightforward and paying attention to the small details that make a job done just the way you want it done! Thanks guys..great job!"

Jim Strasser

2019-01-02

5★★★★★ - "It's always a pleasure working with Gene!! He is professional, thorough and always puts the customer first!! Thanks IGG Kitchen & Bathroom Remodeling!"

Julia Barringer

2019-01-02

5★★★★★ - "We contracted with Gene Denton " IGG Kitchen & Bathroom Remodeling" for a kitchen and bathroom remodel. Gene and his team were very responsive as well as expert at their craft. The outcome of the project was beautiful and we will utilize his team again."

The Howells, Kitchen & Bathroom Remodeling in Denver, CO

2018-08-28

5★★★★★ - "Bathroom demo completed on time as promised. Updated bathroom is low maintenance and should last a lifetime."

Adele

2018-07-30

5★★★★★ - "We love our new bathroom! It was time to upgrade our master bathroom making it more handicap assessible but we did not want it to look institutional. We talked to a number of companies and contractors. Gene was very knowledgeable and professional and provided us with excellent ideas and solutions. His bid was reasonable. Not the most expensive and not the cheapest. Gene ASKED for our business! Gene and team were courteous, conscientious, professional and reliable. Workmanship was excellent. Gene ensured that we were 100% satisfied and easily worked with our changes. Remodels are messy, and we really appreciated how his team cleaned up at the end of each work day. We highly recommend IGG Kitchen & Bathroom Remodeling! We are actually planning to have Gene upgrade our kitchen next!"

Gayle and Tom, Bathroom Remodeling in Aurora, CO

2018-06-18

5★★★★★ - "Did a wonderful job with our bathroom remodel. We would highly recommend Gene and his team."

thomas gurksnis in Aurora, CO

2018-06-12

5★★★★★ - "We have now used IGG Kitchen & Bathroom Remodeling for two bathroom/shower remodels and once again have been very pleased with the quality of work, professionalism, and timeliness of the job performed. Gene was very easy to work with and was able to find a way to work within our budget. Bob was our craftsman on both jobs and again, he did an excellent job. He's very detailed oriented which matched our expectations...not missing any of the little things that needed to be done. We highly recommend Gene's IGG Kitchen & Bathroom Remodeling company for any remodel job you have...we wouldn't hesitate to call them again. Excellent. Timely. Professional.
Thanks for everything Gene."

Jim, Bathroom Remodeling in Denver, CO

2018-03-28

5★★★★★ - "I hired IGG Kitchen & Bathroom Remodeling and it was the best decision. They are patient, kind, creative, honest and dependable. My bathroom is now my favorite room in the house. I am so grateful we found them. Thanks again, we LOVE it!"

Hayden, Bathroom Remodeling in Denver, CO

5★★★★★ - "We could not have been any happier with the results of our bathroom remodel. Working Gene Denton and IGG Kitchen & Bathroom Remodeling was straightforward and honest and fair. He followed through with every promise made. Bob did all of the work for us and he is very much a detail kind of guy...excellent...he didn't miss a thing! Terrific guys and a great company! We absolutely endorse their work ethic and commitment to customers and would be happy to work with them again."

Jim and Adrienne Parker, Bathroom Remodeling in Aurora, CO

5★★★★★ - "We want to let you know that the work you and Bob did on our bathroom has been great. The room is lovely, and with exactly the materials we wanted. I am not sure how it happened, but the tiny bathroom actually looks larger than it was. This is the result of magic, not any relocation of walls or ceiling. Thanks for a job well done."

Robin M., Bathroom Remodeling in Centennial, CO

5★★★★★ - "We selected Gene Denton and Its Gotta Go after multiple estimates based on reviews. We felt that Gene truly understood what we wanted and provided a reasonable price. We started with a remodel of the master bathroom and loved the results. We expanded the shower (adding a bench) and reshaped the closet. It blends perfectly with the rest of the bath. After good results, we had Its Gotta Go modify a wall and add backsplash in our kitchen. Again, great results. Gene and Bob kept us informed if there were any delays and were timely in the work contracted."

Keith H., Bathroom & Kitchen Remodeling in Centennial, CO

5★★★★★ - "Great job. Everything was done just the way we wanted it, for a fair price, and in the amount of time contracted. Bob does great work, and again, Gene was wonderful to work with. We will be calling him again in the future for some kitchen work. Thank you."

The Wilson Family, Bathroom Remodeling in Denver, CO

5★★★★★ - "We love our new kitchen! Gene was able to provide exactly what we were looking for within our desired budget. He surrounds himself with great people that ensure a job well done."

Rich & Ann, Kitchen Remodeling in Aurora, CO

5★★★★★ - "Gene from IGG Kitchen & Bathroom Remodeling has been great to work with. He is patient, professional and thorough. Highly recommend him if you're looking for remodeling!"

Diane

Kitchen Remodeling in Westminster, CO

Bathroom Remodeling in Denver, CO

Bathroom Remodeling in Lakewood, CO

5★★★★★ - "Gene is a great person to work with. He understood everything we wanted done and came in well under budget."

Steve Miller

2015-06-26
---
Call for FREE Remodeling Contractor Quote
---